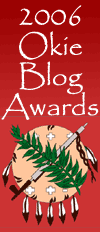 The 2006 Okie Blog award ceremony was held at the 2006 Okie Blogger Round-Up on Saturday, September 23rd at the Bricktown Central Plaza Hotel in Oklahoma City, Oklahoma.
The Okie Blog Awards are established by, and decided by and for, Oklahoma bloggers exclusively. They are intended for our blogging peers to recognize and honor the excellence of diversity by bloggers within the state through popular nominating and voting.
2006 Okie Blog Awards Winners:
Congratulations to all the winners and nominees.